Solutions
Merit Complaints
Integrated complaint management, linked to rewards and analytics
Merit Complaints provides an integrated approach to complaint management, helping organizations improve their quality performance, customer satisfaction and brand reputation
Merit Complaints is specifically designed to turn testimonies of dissatisfaction into valuable interactions and change opportunities. The Complaints module provides an integrated approach to managing complaints throughout their lifecycle. It allows to log, respond, investigate and analyse complaints with the aim of maintaining and improving customer service. The Module's integrated communication and reward functionality ensures that customers receive adequate feedback on their complaint, timely resolution and when appropriate, an adequate compensation. Flexible workflow, built-in communications and extensive reporting are among Merit Complaints' key features.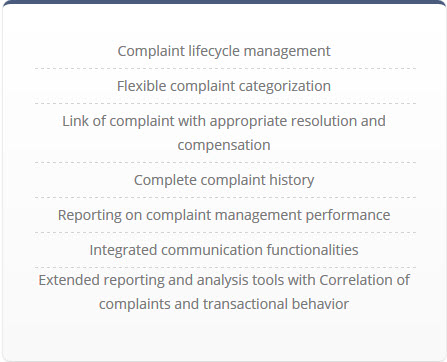 Building stronger customer relationships
Merit Complaints understands each organization's need to handle complaints professionally, consistently and above all, efficiently. It automates and streamlines the complaint lifecycle from event registration through investigation, cause analysis, resolution, compensation and reporting. Based on industry best practices, it guides users through proper processing, documenting and reporting of every complaint, ensuring that customer satisfaction is maintained at every step of the process. Each complaint's history is easily accessible and provides a completely updated status of how a complaint is progressing through the organization's departments and what actions have been taken or should be taken.
Engaging with your customers
At every stage of the Complaint Lifecycle, Merit Complaint Management integrates with Merit Communications module to manage and distribute complaint-related communication messages to the customer. The distribution of messages is fully automated and Merit ensures each customer receives a personalized feedback message pertinent to the complaint at hand.
Improving the organization
Customer complaints offer invaluable information that can help the organization to improve its products and processes.
Merit Complaints is accompanied by reports that provide insights into the organization's complaint management efficiency and the correlation of customer purchasing behavior and complaint history.
For a complete list of our consulting services please visit our Services section.
Merit Complaints is provided as a separately licensed add-on module to Merit Loyalty Suite®.