Seamless integration at all channels
Merit eChannels are a testimony to Merit's comprehensive integration strategy: facilitating seamless interaction and interfacing at any and all points where customer information is generated or manipulated.
EFT-POS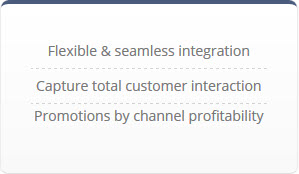 Interactive Capabilities
Merit provides integration with low-cost EFT-POS terminals for capturing transactions and providing online feedback. As a low-cost alternative channel of customer interaction, EFT-POS and other transaction authorization devices render the majority of customer loyalty services through online/real-time communication with Merit's central database. Such interactive capabilities allows for service customization and customer recognition at every point of customer interaction; a fundamental requirement of any successful customer relationship strategy.
Merit EFT-POS Extensions are especially suitable for organizations with multiple outlets interested in simple, low-cost methods to capture customer transactions for loyalty or other applications. Retail banks, petroleum retailers, hotel and leisure chains, are some of the best-fit examples.
Flexibility and Investment Protection
Merit EFT-POS Extensions are designed with the flexibility to support a variety of transaction protocols, such as the ISO8583 for financial transactions and the IFSF for petroleum retailers. Merit's flexibility enables integration of customized EFT-POS software modules, or integration with existing applications, thus taking advantage of in-place investments in equipment, software and human resources.
ATM & KIOSK
Merit enables interaction through channels originally invented to increase customer convenience and decrease operational overheads. Any customer transaction that can be made available through the company's website or call center can simply and reliably be available at ATMs or Kiosks.
WEB
Merit Web Extensions provide application programming interfaces (API) and web services for incorporating loyalty information and processes into company websites.
The Web as a Channel and a Line of Business
Merit supports the Internet as a channel for communicating customized account information through interactive web services via the company's website. Merit accommodates the unique requirements of the Internet as a new line of business, using distinguished transactions and parameters to capture, process, evaluate and reward. For example, while the traditional retail environment rewards actual transactions, the Internet can react to consumer intentions by monitoring navigation, duration and click sequences.
MOBILE PHONES
Merit Mobile Phone Extensions provide application programming interfaces and data exchange specifications to cooperate with systems handling mobile phone interaction. Merit accepts transactions from sources such as SMS, call registers and other systems or telephony applications that integrate such elements of customer behavior into the overall relationship management strategy.
CALL CENTER
Although the mechanics of call center technology are fairly routine today, the growing complexity has created a need for customer intelligence at the service desk. Merit Call Center Extensions allow for the interfacing to call center applications to present a unified environment to call center agents and, at the same time, enrich the information available to the agent handling incoming customer calls.