A systematic and organized approach to fraud detection
Merit Fraud Management supports institutions in their fight against fraud by providing the tools required for assessment, control and prevention of fraudulent activities.
Merit Fraud Management offers the tools needed to organize and automate the organization's efforts to detect, discourage and prevent fraudulent activity, protecting revenues and reputation.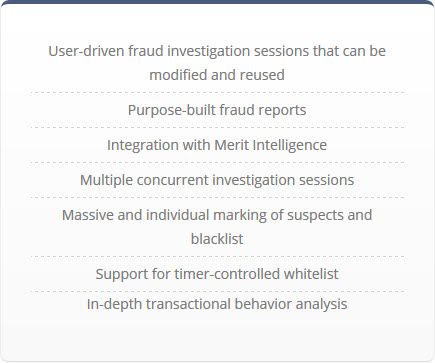 Detecting and investigating fraud
Merit Fraud Management offers a progressive methodology for fraud investigation with user-defined fraud investigation scenarios. The scenarios are based on purpose built fraud reports but can also capitalize on the functionality of Merit Intelligence, combining and correlating the results into meaningful data that reveal suspects and confirmed fraud cases.
Although fraud investigation is an intuitive process, Merit Fraud Management recognizes the need to save the experience of each fraud investigation session so that it can be reused and continually adjusted with the improved gained intelligence from previous investigation activity.
Managing fraud cases
Merit Fraud Management offers a comprehensive fraud case management solution that records intermediate results and final conclusions regarding the investigation. It allows marking customers with a specific fraud status (e.g. 'Suspect', 'Blacklist', etc.) and records a complete history of each customer's transition among fraud statuses throughout the investigation. To minimize the fraud investigation workload, Merit allows 'whitelisting' customers that are cleared by the investigation, so that they do not need to be investigated again for a period of 'immunity'.
For a complete list of our consulting services please visit our Services section.
Merit Fraud Management is provided as an add-on module to Merit Loyalty Suite®.