Solutions
Merit Communications
Merit's engine for relevant, targeted and personalized communications
Merit Communications delivers on the promise of putting the capability for direct and meaningful communications in the hands of decision makers and marketers.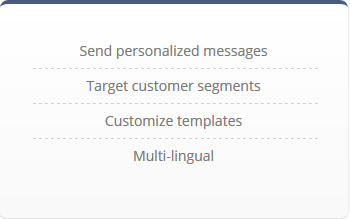 Design and distribute direct and meaningful messages
Direct as in fast, immediate, always meeting time-to-market requirements, without waiting in line for technical support.
Meaningful as in effective, relevant to the customer, customized, standing out of the hordes of unsolicited messages flooding the customer's inbox on a daily basis
Merit Communications enables the production and distribution of electronic communications (email, SMS) to the members of your loyalty scheme. Merit Communications' unique capabilities lie in its ability to act immediately on the results of analysis, by addressing messages to special customer segments in a seamlessly integrated fashion, as soon as such segments are generated from analysis and measurements by Merit Intelligence.
Additionally, such messages can be mass-customized, based not only on demographic profile data, but also on each customer's individual contribution to the business.
For example, email content can differ based on the number of visits or uses of a card. This means that you can generate promotional messages and offers customized to each member's prior shopping behavior.
Multi-Lingual & Multi-Cultural
In a multi-cultural, multi-lingual environment, distributing marketing messages in the customer's native language is the obvious thing to do. Merit Communications does so in a smart, time-saving method. A single message can be edited in multiple language versions, even with varying content between languages. At distribution time, Merit Communications will send the appropriate version to each customer, based on her registered language preference, a much more efficient approach than separating customers by language through manual methods.
Ad-hoc Communications to Individuals
Although customer communications require planning and thorough analysis, the need for ad-hoc, individual communications will never be eliminated. Merit Communications provides support for individual ad-hoc communications, integrated into customer account management functions of Merit Foundation, as well for campaign announcement and campaign transaction messages, integrated into campaign management functions of Merit Campaigns. This facility further enhances Merit's integration strategy between its modules and enables the organization to save time and maintain a consistent image by standardizing its messages, even when handling a particular customer issue.