Solutions
Merit Foundation
Efficient, reliable and scalable operations
Merit Foundation is operational base of Merit Loyalty Suite's®, ensuring reliable, scalable and efficient loyalty program operations combined with flexibility, versatility and speed-to-market at low administration costs.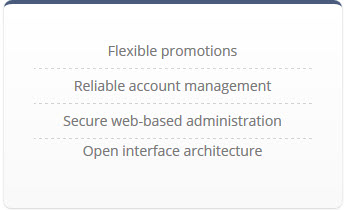 Comprehensive Account Management
Through its Account Management module, Merit Foundation provides all the tools related to customer registration and account administration, distinguished by its unique ability to handle all types of real life account structures and relationships from single, to family, to company/group accounts.
All Account Management functions are available as online/real-time facilities for your users and customers, through web integration.
Flexible Promotion Management
Merit Foundation supports the centralized design and deployment of promotional programs to promote behavior toward products, locations, preferred channels and, in general, any behavior profitable for the company.
Merit's Promotion Planner supports overlaying of multiple concurrent promotions allowing for unparalleled flexibility and forward planning.
Seamless Administration
Merit Foundation facilitates user-driven web-based administration, providing the utmost in flexibility and maintainability, which enables Loyalty Managers to respond to and implement scheme requests immediately!
Merit's sophisticated and open interfacing architecture enables data exchange with any type of data source to permit quick implementations, irrespective of the technologies employed at different locations.
Points-of-sale (POS)
Credit card management systems
ATMs
Airline reservation systems
Mobile phones
Internet.
Universal AND Differentiated Image
Merit Foundation supports centrally managed loyalty programs across stores, branches and any other points of customer contact, projecting a consistent and trustworthy company image; one of the primary building blocks of customer loyalty. At the same time, Merit remains flexible in differentiating promotional activities where local competitive situations dictate a diversification of promotions or marketing messages.
Applications
Merit Foundation is especially suited for organizations with large volumes of customers and multiple locations such as all types of retail chains, petroleum retailers and banking institutions. It is also suitable for businesses offering one-to-one value services, like airlines, travel and entertainment organization (restaurants, parks and cinemas). The modular components of Merit Foundation support joint loyalty schemes between organizations in dissimilar industries, aiming at providing greater customer value and cross-selling opportunities.