Solutions
Merit Campaigns
Multi-channel dynamic campaigns with instant rewards
Merit Campaigns enables real-time dynamic campaigns for promoting customer purchases at retail locations (merchants) either in standalone merchant schemes or in the context of a multi-merchant coalition program. Merit Campaigns also supports campaigns at any interactive channel, including ATMs and eCommerce. In cooperation with Merit Intelligence, Merit Communications and Merit eChannels modules, Merit Campaigns allows targeted and therefore effective and profitable campaign management, implemented through instant rewards (including points, discounts, vouchers and free items) as well as redemption and campaign messages at any device that enables real time customer interaction.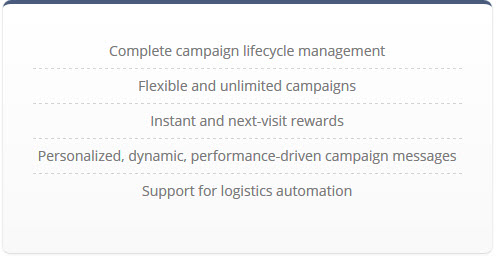 Campaign lifecycle management
Merit Campaigns supports the complete lifecycle of campaigns from planning to design, execution and evaluation of the results. The Campaign Planner, a highly productive planning tool, provides a holistic view of the entire organization's campaign activity, across multiple concurrent channels for an unlimited time frame. A Merit campaign definition incorporates all necessary parameters required to execute a campaign and measure its results at the end or monitor its progress and take corrective actions.
Such parameters include:
Campaign validity, defining the campaign's effective period, days-of-week, hours-of-day and campaign status.
Customer eligibility and qualification criteria, defining the initial target group as well as the criteria by which customers will qualify for the rewards.
Merchant qualification and usage criteria, defining which merchants and merchant locations participate in the campaign.
Communication specifications, defining the messages used to communicate campaign announcement information to customers as well as the dynamic personalized messages delivered during transaction processing, directly on the input channel (POS, Web, ATM, SMS, App).
Reward specifications, defining the rewards granted to qualified customers, including points, discounts, free products or simply the right to participate in a following campaign.
Enhancing the Customer's and the Merchant's Real-time Experience
Merit Campaigns delivers real-time dynamic messages that are automatically adjusted as the customer progresses toward the campaign's target. Campaign messages are fully parametrical, multi-lingual and multi-channel, features that when combined together, deliver truly personalized campaign messages, in the customer's preferred language, in the transaction channel's most appropriate format.
Campaign rewards can be instant (as for example, a direct discount on the transaction total or on a particular item) or saved as e-vouchers for a subsequent visit, acting as incentives to bring the customer back to the store. Rewards can be also one-time or recurring. The technology of paperless vouchers waives most of the overheads and the possibilities for human errors typically involved in the fulfilment of customer rewards.
Unlimited flexibility
As Merit allows for an unlimited number of campaigns it also recognizes the fact that customer segmentation is a multi-dimensional exercise, assigning a customer to multiple segments, depending on each campaign's evaluation and selection criteria. For example, a customer who belongs into the 'Young population' segment may also be a member of the 'High spenders' and the 'Frequent shoppers at XYZ merchant' segments. It is therefore possible that this customer may become the target of more than one campaigns at the same time. Merit implements a well thought out business logic to calculate the cumulative effect of all concurrently active campaigns.
Air Traffic control
Borrowing the term from the airline industry, Air-Traffic-Control (ATC) is Merit's highly sophisticated mechanism for keeping customer communication activity to the desirable levels. The ATC system considers marketing rules for communication frequency as well as the organization's capacity in managing multiple concurrent campaigns, thus making Merit the appropriate tool for controlling the organization's overall communication plan, across all products and customer segments.
Automated logistics
In a multi-merchant coalition program, Merit Campaigns applies sophisticated processes to handle logistics for sharing liabilities attributed to issued and redeemed points between the program's partners. The overall process is complemented by Merit's comprehensive clearing and billing system which offer core functionality for billing as well as integration with the organization's accounting processes.
Reporting & Customer service
Campaign reporting is constant and dynamic at the overall campaign level as well as at the individual customer level. The campaign manager can easily monitor campaign progress and make adjustments. At the same time, Customer Service can provide immediate feedback to an inquiring customer about his/her individual progress in any of the active campaigns.